Current strategies for treatment of intervertebral disc degeneration: substitution and regeneration possibilities
Biomaterials Research
2017
21:22
Received: 20 June 2017
Accepted: 5 October 2017
Published: 23 October 2017
Abstract
Background
Intervertebral disc degeneration has an annual worldwide socioeconomic impact masked as low back pain of over 70 billion euros. This disease has a high prevalence over the working age class, which raises the socioeconomic impact over the years. Acute physical trauma or prolonged intervertebral disc mistreatment triggers a biochemical negative tendency of catabolic-anabolic balance that progress to a chronic degeneration disease. Current biomedical treatments are not only ineffective in the long-run, but can also cause degeneration to spread to adjacent intervertebral discs. Regenerative strategies are desperately needed in the clinics, such as: minimal invasive nucleus pulposus or annulus fibrosus treatments, total disc replacement, and cartilaginous endplates decalcification.
Main body
Herein, it is reviewed the state-of-the-art of intervertebral disc regeneration strategies from the perspective of cells, scaffolds, or constructs, including both popular and unique tissue engineering approaches. The premises for cell type and origin selection or even absence of cells is being explored. Choice of several raw materials and scaffold fabrication methods are evaluated. Extensive studies have been developed for fully regeneration of the annulus fibrosus and nucleus pulposus, together or separately, with a long set of different rationales already reported. Recent works show promising biomaterials and processing methods applied to intervertebral disc substitutive or regenerative strategies. Facing the abundance of studies presented in the literature aiming intervertebral disc regeneration it is interesting to observe how cartilaginous endplates have been extensively neglected, being this a major source of nutrients and water supply for the whole disc.
Conclusion
Several innovative avenues for tackling intervertebral disc degeneration are being reported – from acellular to cellular approaches, but the cartilaginous endplates regeneration strategies remain unaddressed. Interestingly, patient-specific approaches show great promise in respecting patient anatomy and thus allow quicker translation to the clinics in the near future.
Keywords
Intervertebral discRegenerative strategiesTissue engineering
Background
The intervertebral disc (IVD) can be subjected to a great range of changes throughout a person's life [1]. An underlying IVD degeneration (IDD) might be developing alongside with these age-related changes. IDD can be triggered by a single event of acute overloading, such as the lifting of a heavy object. It could alternatively be derived from a long-term repetitive IVD mistreatment without providing the proper conditions and time for the tissue to recover. With aging, this disease can be induced with a single event of acute over-loading of progressively less intensity. IDD may progress to serious condition due to important physiological changes that can include: Water loss, healthy extracellular matrix (ECM) synthesis decrease and phenotype change, increased cell senescence, and several other modifications at the biomolecular level [2, 3]. Ultimately, such biological transformations can lead to severe morphological changes, expressed in the form of pathologies.
The biomechanical functioning of IVD relies on a balance between the three main tissues that compose it: Two cartilaginous endplates – hyaline-like tissue located at the edge of the neighbour vertebras, the nucleus pulposus (NP) – gelatinous tissue at the centre of the IVD, and the outer and inner annulus fibrosus (AF) – two partially concentric strong elastic-like tissues surrounding the whole IVD [4]. The latter two, although slightly different from each other, will be regarded in this review as one AF when its division is not required, for simplicity purposes.
The AF, as a whole, behaves like a strong elastic material. This, however, could be a reductionist view of this tissue, since this behaviour could be derived from a low concentration of strategically located elastic fibres that convey recoil properties to the collagen fibre bundles, returning these to their pre-stressed dimensions when relaxed. Biomechanics is strongly influenced by the NP's water concentration. Water presence is, by its turn, directly related with the biochemical composition of the tissue. In this respect, proteoglycans (PG's) specifically play a major role in this water-biochemistry relation, due to their extremely hydrophilic nature. PG's are responsible for the presence of up to 80% water concentration within a young and healthy NP [5]. When the IVD is compressed, the water molecules are released from the PG's, following the lines of mechanical tension that progress from the cartilaginous endplates through the NP until the outer edges of the AF. After the loading cycle is finished water is again attracted towards the PG's at the centre of the IVD, through diffusion derived from the closest blood vessels. In healthy IVDs, this near vascularisation is located at the cartilaginous endplates, which provide hydration as well as nutrition to the whole IVD [6]. With aging, the cartilaginous endplates progressively lose permeability due to calcification, cutting this essential water supply. However, due to the complexity of the pathways of water, nutrients, waste and oxygen within the whole IVD, the literature is not absolutely conclusive [7]. It seems that along the progressive shutdown of the endplates' pathway, the water concentration gradually decreases within the IVD. This might force the water to return to the NP through the AF influencing a non-healthy region homeostasis with debilitated water, nutrient and waste renewability. It is clear, nevertheless, that it leads to: NP ECM remodelling unbalance, IVD loss of hydration, as well as height decrease, and abnormal force distribution. Ultimately, all these changes are responsible for the appearance of IDD morphological signs [8].
The fundamentals related to the biological and molecular changes derived from an IVD under degeneration are described. The set of prospective and recent studies that have been reported, ranging from biomaterials-based to cellular approaches, are also herein overviewed (Fig.
1
).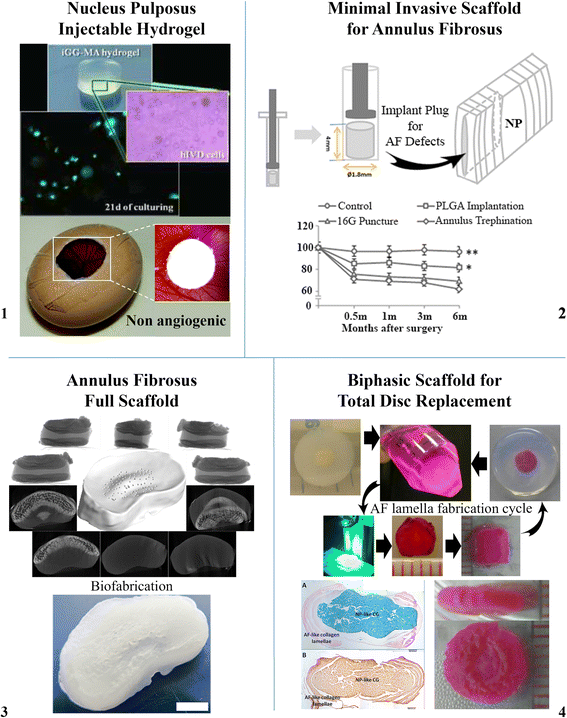 Conclusions
Reviewing the literature on tissue engineering strategies for IVD regeneration it is possible to state that extensive efforts have been made to regenerate the NP alone, but increasingly for the simultaneous NP and AF has been addressed. Two of these strategies have stirred the research community focused on IVD regeneration: In vivo and ex vivo approaches that balance risk of adverse effects with treatment efficiency, with the first being potentially fatal but more efficient.
In tissue engineering field, the literature seems to be in consensus about using a polysaccharide as a low-cost NP substituting material. Additionally, due to the high avascular nature of this tissue a tight compromise is in order – the degradable biomaterial must allow cell adhesion and proliferation, while not hampering for angiogenesis to occur. Gellan gum seems to fulfil these requirements, having already demonstrated its non-angiogenic potential, as well as providing an optimal environment for chondrocyte culturing, both in vitro and in vivo. Collagen II, as a more expensive alternative to polysaccharides, has shown excellent results in vitro regarding NP native-like ECM production, possibly aided by its natural piezoelectric properties when under mechanical stimulated culture conditions. It would be interesting, perhaps, to assess the combination of gellan gum doped with collagen II to accomplish the positive results of both materials. Nonetheless, if a patient also requires AF regeneration, the NP substituting hydrogel needs to be integrated in an AF scaffold. Several approaches for integrating both tissue regeneration substitutes have been reported, being integrated from the beginning of construct preparation or only just before application. PCL has been very popular due to its mechanical properties, having been processed in several different manners with interesting final results. It has, in fact, also been applied within the biofabrication field, showing the possibility to produce 3D printed custom-tailored AF scaffolds based on the host intervertebral geometry. This way further expanding processability into a wider range of scaffold shapes and details, with low-cost and in a short time. Patient-specific therapies are becoming popular and allow the development of scaffolds or constructs that fit the patient's needs in a precise manner. This increases the potential for construct integration into the surrounding tissues, and lowers the risk of complications, such as scaffold displacement or mechanical destabilization.
Although the recent reports serve the great purpose of providing tools to regenerate a greater tissue volume of the IVD, few strategies have been developed to regenerate the cartilaginous endplates. The healthiness of these plates is, in fact, one of the keys for a healthy cellular environment within the whole IVD. Regenerating the other two tissues, alone or together, when the endplates are calcified is, therefore, a desperately frustrating task, ultimately leading towards failure in the long-run. The strong bonds between the three tissues that compose the IVD, on all levels, imply that the tissue engineering path of less resistance is a strategy that encompasses all tissues together, when considering late-stage IDD cases. Having into account what has been developed for NP and AF regeneration leads to the conclusion that once a successful cartilaginous endplate regeneration strategy has been developed the remaining strategies will possibly achieve significantly better results when applied together. However, full IDD is not the only clinical condition of this disease. Research on minimally invasive surgical approaches and repair/regeneration strategies that rely on the use of patient-specific implants, for the AF and NP, play an important role in finding appropriate clinical solutions for less severe, but still painful, conditions of IDD.
Abbreviations
IVD:

Intervertebral disc
IDD:

Intervertebral disc degeneration
ECM:

Extracellular matrix
NP:

Nucleus pulposus
AF:

Annulus fibrosus
PG:

Proteoglycan
MRI:

Magnetic resonance imaging
PCL:

Polycaprolactone
CT:

Computed tomography
Declarations
Acknowledgments
The authors would like to acknowledge the support provided by the Portuguese Foundation for Science and Technology (FCT) through the project EPIDisc (UTAP-EXPL/BBBECT/0050/2014), funded in the Framework of the "International Collaboratory for Emerging Technologies, CoLab", UT Austin|Portugal Program. The FCT distinctions attributed to J. Miguel Oliveira (IF/00423/2012 and IF/01285/2015) and J. Silva-Correia (IF/00115/2015) under the Investigator FCT program are also greatly acknowledged.
Availability of data and materials
Not applicable.
Authors' contributions
SvU wrote the raw manuscript closely supervised by JSC and JMO considering the backbone structure of the manuscript, who applied all revisions supplied by JSC, JMO and RLR on the several versions of the manuscript until all authors read and approved the final manuscript.
Ethics approval and consent to participate
Not applicable.
Consent for publication
Not applicable.
Competing interests
The authors declare that they have no competing interests.
Publisher's Note
Springer Nature remains neutral with regard to jurisdictional claims in published maps and institutional affiliations.
Open AccessThis article is distributed under the terms of the Creative Commons Attribution 4.0 International License (http://creativecommons.org/licenses/by/4.0/), which permits unrestricted use, distribution, and reproduction in any medium, provided you give appropriate credit to the original author(s) and the source, provide a link to the Creative Commons license, and indicate if changes were made. The Creative Commons Public Domain Dedication waiver (http://creativecommons.org/publicdomain/zero/1.0/) applies to the data made available in this article, unless otherwise stated.
Authors' Affiliations
(1)
3B's Research Group—Biomaterials, Biodegradables and Biomimetics, University of Minho, Headquarters of the European Institute of Excellence on Tissue Engineering and Regenerative Medicine, Gandra, Portugal
(2)
ICVS/3B's—PT Government Associate Laboratory, Guimarães, Portugal
(3)
The Discoveries Centre for Regenerative and Precision Medicine, Headquarters at University of Minho, Guimarães, Portugal
(4)
Present Address: Bioengineering Laboratories Srl, Meda, Italy
(5)
Present Address: Politecnico di Milano, Milan, Italy