Solid organ fabrication: comparison of decellularization to 3D bioprinting
Biomaterials Research
2016
20:27
Received: 12 April 2016
Accepted: 2 August 2016
Published: 31 August 2016
Abstract
Solid organ fabrication is an ultimate goal of Regenerative Medicine. Since the introduction of Tissue Engineering in 1993, functional biomaterials, stem cells, tunable microenvironments, and high-resolution imaging technologies have significantly advanced efforts to regenerate in vitro culture or tissue platforms. Relatively simple flat or tubular organs are already in (pre)clinical trials and a few commercial products are in market. The road to more complex, high demand, solid organs including heart, kidney and lung will require substantive technical advancement. Here, we consider two emerging technologies for solid organ fabrication. One is decellularization of cadaveric organs followed by repopulation with terminally differentiated or progenitor cells. The other is 3D bioprinting to deposit cell-laden bio-inks to attain complex tissue architecture. We reviewed the development and evolution of the two technologies and evaluated relative strengths needed to produce solid organs, with special emphasis on the heart and other tissues of the cardiovascular system.
Keywords
Extracellular matrix3D printingDecellularizationOrganogenesisBiomimetics
Background
Tissue Engineering, as introduced in 1993 [1], is the creation of complex tissues and organs from simpler engineered pieces. Over the past few decades, biomaterials, stem cell technology and advanced imaging modalities have been developed to generate tissue components. Biomaterials are not only a delivery vehicle or passive scaffold for cells, but dynamically modulated microenvironments in vivo and in vitro. Synthetic biomaterials possess well-defined physicochemical properties and synthetic-natural hybrid biomaterials often present tunable biological functionalities. Stem cell biology with reprogramming and gene-editing provides more options for cell sources in tissue engineered constructs. Advanced imaging techniques enable acquisition of more detailed spatiotemporal information, which can serve as a blue print for tissue regeneration [2, 3].
Earlier approaches in Tissue Engineering focused on 2D organs such as skin and hollow tubular (e.g. blood vessels) or non-tubular hollow organs (e.g. bladder). Solid organs such as kidney, liver or heart are the most complex in achieving vascularization and innervation [
4
]. Thus solid organs are more than a collection of 2D tissue components and need to be created by exploiting all-in-one approaches from the beginning. Generating simple 2D or hollow organs is feasible with cell and supporting scaffold of only one type by molding them into a pre-designed cast. However, molding-based fabrication is challenging to accommodate multiple cell types and the extracellular matrix (ECM) in 3D space to achieve tissue-mimicking patterns and associated spatial resolution. Fortunately two technologies have recently emerged that are likely to facilitate solid organ fabrication ex vivo, namely decellularized tissue scaffolds and 3D bioprinting. These fabrication technologies are quite distinct in their execution (Fig.
1
), and therefore harbor distinct attributes and limitations. In this review, we will describe decellularization and 3D bioprinting for soft tissue regeneration in detail, and briefly summarize the pros and cons of each especially in the context of the cardiovascular system. We also comment on the merging of these technologies via 3D printing with decellularized ECM bio-ink and discuss biomimetic 4D printing. Readers are referred to other reviews for specific, emerging technical advances that enable 3D bioprinting (Murphy and Atala [
4
], O'Brien et al. [
5
], Studart [
6
], Jungst et al. [
7
], Jose et al. [
8
], Guvendiren et al. [
9
] and Gudapati et al. [
10
]).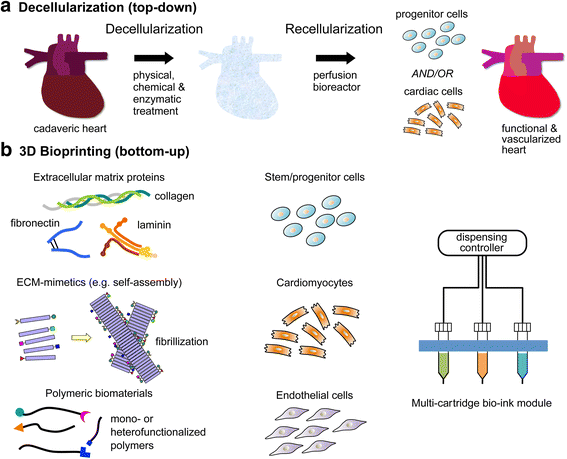 Organogenesis via decellularization and recellularization
A number of approaches have been attempted to remove cells and preserve intact ECM via physical, chemical and enzymatic treatments [
11
]. Decellularized scaffolds provide architecture and mechanical integrity of the remaining ECM, while avoiding adverse biological and immunological responses from cellular and nuclear materials. One of the earliest approaches was to harvest the ECM of the small intestinal submucosa (SIS) by removing the superficial layers of the mucosa and the external muscular layers [
12
]. Although this was suitable for 3D in vitro cell cultures, 80 μm-thick ECMs may not have mechanical properties to resist shear from cardiac pumping and circulation. Expanding this idea to organ scale, the first decellularized heart was described by Ott et al. [
13
] in 2008. This pioneering approach reported the decellularization of 12 week-old whole rat heart while preserving the underlying ECM and intact geometry and producing acellular and perfusable vasculature (Fig.
2a
). The decellularized rat heart was repopulated with rat aortic endothelial and neonatal cardiac cells and was matured further with physiological preload, afterload and intraventricular pressure as well as electrical stimulation at 5–20 V in a bioreactor up to 28 days. This recellularized heart developed macroscopic contraction and the measured pump function was equivalent to about 2 % of adult or 25 % of 16-week fetal heart function. This inaugural study initiated regenerative engineering approaches in different types of solid organs including lung, kidney and pancreas [
14
]. Since then, decellularization procedures have been further optimized and critically evaluated [
15
].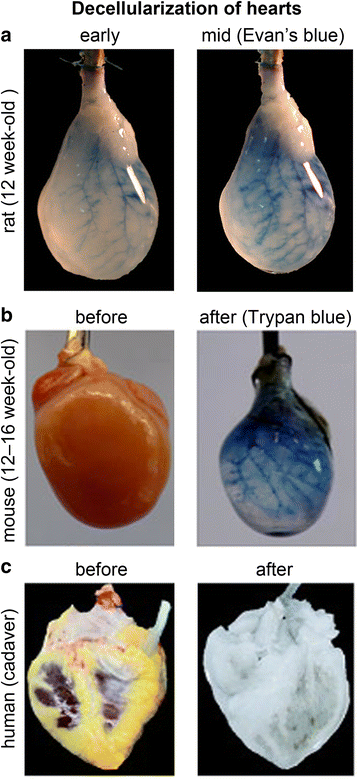 From an organogenesis perspective, decellularized tissues maintain the ECM framework, but lack the fundamental and biological unit of organs. Although the first human embryonic stem cells (ESC) were derived in 1998 [16], the idea of employing stem or progenitor cells became more attractive for tissue regeneration after the introduction of induced pluripotent stem cells (iPSCs) [17, 18]. This breakthrough stem cell technology might enable production of a personalized heart. Followed by decellularization, repopulating the decellularized heart with either pluripotent stem cells or lineage-restricted progenitor cells [19] and maturing those cells within the intact ECMs in situ could promote the generation of functional heart tissue. Lu et al. [20] decellularized mouse cadaveric whole heart (Fig. 2b) and repopulated with human iPS-derived multipotent cardiovascular progenitors (MCPs), which were differentiated in situ into cardiomyocytes, smooth muscle cells and endothelial cells. After 20 days of perfusion, the repopulated heart exhibited myocardium and vessel-like structures, contracted spontaneously at a rate of 40–50 beats per min and responded to isoproterenol treatment. This study also found that cardiac ECM prompted significantly more cardiomyocyte proliferation, differentiation and myofilament formation from the repopulated MCPs than in a 3D microenvironment of embryoid body. More recently, decellularization and repopulation with iPSCs was up-scaled to human cadaveric heart. Guyette et al. [21] prepared decellularized human cadaveric whole heart from 73 donors via perfusion decellularization (Fig. 2c). Toward better translational outcome, this group employed cardiomyocytes from a non-transgenic (RNA-induced) PSCs [22] by modulating the Wnt/β-catenin signaling with inhibitors of GSK3β and Wnt [23]. The whole heart recellularization was performed using a custom bioreactor capable of providing coronary perfusion and left ventricular wall mechanical stimulation that was achieved by oscillating the pressure inside a balloon placed inside the left ventricle. Heart is not the only candidate organ for decellularization and repopulation with progenitors or terminally differentiated cells. These approaches were also applied to liver [24], kidney [25] and other cardiovascular tissues including valves and vessels [26] (authors refer to a recent review by Song and Ott [14] for further review of decellularizaton of others organs).
Preserving vasculature and mechanical integrity of the tissue with decellularization allows repopulation of the decellularized organs with cells. For clinical application, techniques to achieve complete endothelialization with recellularization will be critical for the maintenance of blood flow and the prevention of blood coagulation given the thrombogenicity of certain ECM proteins of the decellularized scaffold [27].
In summary, decellularization of whole organ has been achieved with intact ECM architecture and perfusable vasculature. Preserving vasculature and mechanical integrity of the tissue with decellularization allows repopulation of the decellularized organs with cells. Repopulation with iPSCs have been achieved up to human scale for certain organs. However, the number of different types of cells for repopulation of decellularized organs is limited. In particular, the spatial acuity or precise positioning of cells is challenging to achieve as repopulation is currently dependent on perfusion. Recently emerged 3D bioprinting technique has the potential to fulfill some of these limitations and complement the advantages of decellularization-based regenerative engineering.
3D bioprinting for directed morphogenesis and organogenesis
3D printing has been a disruptive innovation in many areas of industry, research, medicine and education. 2D printing technology of materials has advanced to an additive process in which successive layers are formed into a 3D shape. Soon after 3D printing, termed stereolithography, was first introduced in 1986 by Charles W. Hull, it began to replace many manufacturing and molding processes. Since medical devices or prosthetics need to be produced with customized detail in clinics, 3D printing is an ideal candidate to augment personalized medicine applications. Recently, combining high-resolution imaging, computer-aided design and resorbable biomaterials, 3D printing showcased an airway splint to treat an infant with tracheobronchomalacia [28]. Later, further advancements were made to include multiple types of precisely printable biological ink (bio-ink), sacrificial biomaterials, and living cells to fabricate bone, cartilage and skeletal muscle [29]. In this section, we will discuss the advancement of 3D printing via biomaterials and living cells with an emphasis on cardiovascular tissues, followed by hybrid approaches such as 3D bioprinting with decellularized ECM for complex, soft tissues.
Conclusions
In this review, we have highlighted important findings from the two most promising technologies for solid organ fabrication, decellularized tissue and 3D bio printing. Decellularization began with great promise to regenerate cadaveric organs while overcoming transplant rejection and possibly alleviating perpetual shortage of donated organs. The most recent human decellularized heart was repopulated with RNA-induced PSCs to differentiate cardiomyocytes to avoid the risk of genetic modification of iPSCs. Although the recellularized cardiac slices and fibers maintained beating phenotypes, sarcomeric structures, and electromechanical function, the whole heart scaffold could not exhibit the same extent of functionality that was attained in the cardiac slice and fibers. Thus progress at the organ level scale with decellularized tissue is still in its infancy, but is advancing [14]. 3D bioprinting of tissues, especially of soft tissues is also in its infancy. 3D bioprinting can guide the placement of cell and supporting matrix at levels corresponding to the native tissue. Many 3D bioprinting technologies already showed printed cells maintain good viability. The next step is to create a solid organ with PSCs at an appropriate differentiation stage for transplantation. Further, PSCs or progenitors in bio-inks need to be protected from uncontrolled differentiation during printing and their differentiation, proliferation, and migration should be precisely guided by spatially defined cues from matrices. In vivo or in vitro maturation should be accompanied either by biochemical signaling or electromechanical stimulation [64, 65] to create a functional organ. Despite these challenges, 3D bioprinting technologies discussed here are just beginning to achieve smaller goals for regenerative medicine application including in vitro model systems and drug testing.
4D printing technology emerges as well, conferring printed 3D structures with the ability to change their form or function with time under stimuli such as pressure, temperature, wind, water or light [66, 67]. A candidate material for 4D printing is stimuli-responsive hydrogels mimicking the dynamics of the ECM [68], where the hydrogel material forms a pre-defined 3D configuration. Inspired by nastic plant motion, a calla lily flower was printed and transformed upon swelling (Fig. 3c) [69]. This biomimetic 4D printing technology controls the orientation of cellulose fibrils embedded in a soft acrylamide hydrogel to define elastic and swelling anisotropies. During printing, the composite fibrils undergo shear-induced alignment, leading to printed filaments with anisotropic stiffness and swelling behavior along the filament length. In addition, the anisotropic swelling enables precise control over curvature, which was quantified by a mathematical model for the mechanics of anisotropic objects to manipulate the embedding of a complex surface.
In future, decellularized tissues will continue to find their way to clinical practice as they have already for skin and blood vessel. Generation of certain tissues not amenable to decellularization and more importantly, recellularization, may benefit from current or emerging variations of 3D bio printing.
Abbreviations
2D, two dimensional; 3D, three dimensional; 4D, four dimensional; ADSC, adipose-derived stem cells; AFSC, amniotic fluid derived stem cell; BSA, bovine serum albumin; CAD, computer aided design; CHO, Chinese hamster ovary; CPC, cardiac progenitor cell; CT, computed tomography; DLP, digital light processing; DMEM, Dulbecco's Modified Eagle Medium; EC, endothelial cell; ECM, extracellular matrix; ESC, embryonic stem cell; FRESH, freeform reversible embedding of suspended hydrogels; HA, hyaluronic acid; HNDF, human neonatal dermal fibroblast; HUVEC, human umbilical vein endothelial cell; iPSC, induced pluripotent stem cells; ITOP, integrated tissue-organ printer; MCPs, multipotent cardiovascular progenitors; MI, myocardial infarction; MRI, magnetic resonance imaging; PCL, poly(ε-caprolactone); PECAM-1, platelet/endothelial cell adhesion marker-1; PPAR-γ, peroxisome proliferator-activated receptor-γ; SDS, sodium dodecyl sulfate; SEM, scanning electron microscopy; SHG, second harmonic generation; SIS, small intestinal submucosa; SMC, smooth muscle cell; TP-LSL, two-photon laser scanning lithography
Declarations
Acknowledgements
Not applicable.
Funding
This work was supported by the National Science Foundation (1445650, BMO), the University of Minnesota Institute of Engineering and Medicine (BMO), and the University of Minnesota Lillehei Heart Institute (BMO).
Availability of data and materials
Not applicable.
Authors' contributions
JPJ and BMO conceived the overall topics of discussion. All authors wrote and reviewed the manuscript. All authors read and approved the final manuscript.
Competing interests
The authors declare that they have no competing interests.
Consent for publication
Not applicable.
Ethics approval and consent to participate
Not applicable.
Open AccessThis article is distributed under the terms of the Creative Commons Attribution 4.0 International License (http://creativecommons.org/licenses/by/4.0/), which permits unrestricted use, distribution, and reproduction in any medium, provided you give appropriate credit to the original author(s) and the source, provide a link to the Creative Commons license, and indicate if changes were made. The Creative Commons Public Domain Dedication waiver (http://creativecommons.org/publicdomain/zero/1.0/) applies to the data made available in this article, unless otherwise stated.
Authors' Affiliations
(1)
Department of Biomedical Engineering, University of Minnesota – Twin Cities, Minneapolis, USA
(2)
Stem Cell Institute, University of Minnesota – Twin Cities, Minneapolis, USA
(3)
Masonic Cancer Center, University of Minnesota – Twin Cities, Minneapolis, USA
(4)
Lillehei Heart Institute, University of Minnesota – Twin Cities, Minneapolis, USA
(5)
Institute for Engineering in Medicine, University of Minnesota – Twin Cities, Minneapolis, USA