Nanofibrous scaffolds in biomedical applications
Biomaterials Research
2014
18:5
Received: 22 February 2014
Accepted: 4 June 2014
Published: 13 June 2014
Abstract
Nanofibrous scaffolds are artificial extracellular matrices which provide natural environment for tissue formation. In comparison to other forms of scaffolds, the nanofibrous scaffolds promote cell adhesion, proliferation and differentiation more efficiently due to having high surface to volume ratio. Although scaffolds for tissue engineering have been fabricated by various techniques but electrospun nanofibrous scaffolds have shown great potential in the fields of tissue engineering and regeneration. This review highlights the applications and importance of electrospun nanofibrous scaffolds in various fields of biomedical applications ranging from drug delivery to wound healing. Attempts have also been made to highlights the advantages and disadvantages of nanofirbous scaffolds fabricated for biomedical applications using technique of electrospinning. The role of various factors controlling drug distribution in electrospun nanofibrous scaffolds is also discussed to increase the therapeutic efficiency of nanofibrous scaffolds in wound healing and drug delivery applications.
Keywords
Electrospinning
Drug delivery
Wound healing
Tissue engineering
Bioactive agent
Introduction
Nanofibers have played significant role in various fields of biomedical research ranging from drug delivery to wound healing due to having high surface area and opportunities to tune their properties by varying composition and fabrication parameters [1, 2]. The fabrication of electrospun nanofibers using hydrophilic polymers found to be effective in developing fast dissolving delivery systems having reduced drug–drug interactions [3–5]. The nanofibrous scaffolds fabricated with natural and synthetic polymers found to be promising for developing drug delivery systems by electrospinning of blended polymers or through coaxial spinning of two different polymers along with drugs and active agents [6, 7]. The technique of electrospinning has produced nanofibrous scaffolds that not only reduced the bulk release of encapsulated drugs but also found useful in developing dual degree delivery systems for post operative surgical treatment of the patients [8]. Recently a variety of techniques has been evolved to fabricate nanofibrous scaffolds for biomedical applications such as techniques of phase separation [9], self-assembly [10], melt-blowing [11], and templating system [12]. However, the technique of electrospinning found to be useful to produce nanofibrous scaffolds [2, 13, 14] for various biomedical applications. Although nanofibrous scaffolds are potentially useful in various fields but this review focuses on applications of electrospun nanofibrous scaffolds for biomedical applications such as drug delivery [15–17], wound healing [18–25], and delivery of bioactive molecules [26] in tissue engineering.
Review
This review provides briefly the state of art of elctrospinning for nanofibrous scaffolds and highlights the recent developments in applications of nanofibrous scaffolds in various fields of biomedical research.
Nanofibrous scaffolds by electrospinning technique
The electrospinning has been known since 1897 based on the principle of Rayleigh [27]. Electrospinning process utilizes the electrostatic forces to draw the fibers from the droplet formed at the tip of spinneret. The applications of electrospinning technique have been explored in various fields [16, 19, 22, 26] and several studies have been conducted to analyze the controlling parameters of electrospinning process [28–38].
In principle, the electrospinning needs three basic components such as, a high voltage DC supply, grounded collector, and syringe pump (Figure 1). On application of voltage, charge is induced in the solution and a Taylor cone [36] is formed by the balance of electrical force and surface tension of the solution. After Taylor cone formation, a charged fiber jet is produced, which moves toward grounded collector when applied potential overcomes the surface tension of the solution in Taylor cone. The formation of nanofibers is influenced by various parameters, which are mainly grouped in following three categories (A, B, and C);
A: Solution parameters, which include conductivity, surface tension, and viscosity of solution.
B: Process parameters, which include applied voltage, distance between tip to collector, flow rate, and electric field induced by the collector.
C: Ambient parameters, which include temperature and humidity.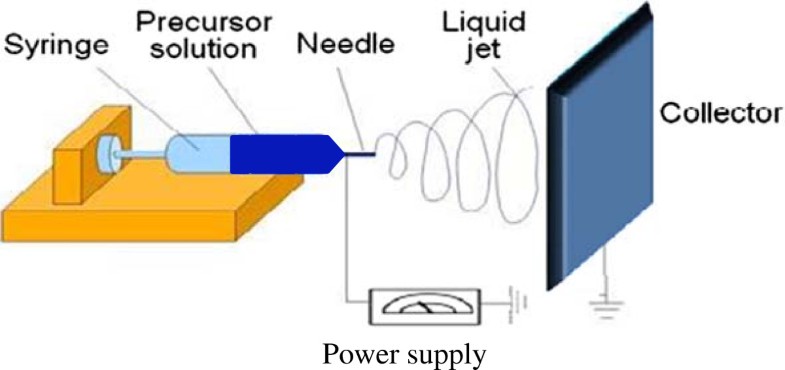 The electrospinning technique is capable of producing continuous fibers using wide range of material such as polymers and their composites with ceramics. It is an effective means to produce non-woven membranes of nanofibers ranging from micron to nanosized diameter [38–42]. The electrospun nanofibers possess high surface to volume ratio, which is responsible for their importance in various applications such as tissue engineering [43–46], drug delivery [47–49], and other bio [50], energy related applications [51–57]. The effect of different surfactants on diameter of poly(lactic acid) (PLA) electrospun fibers has been studied by Zeng et al. [58] and addition of triethylbenzyl ammonium chloride (TEBAC) has significantly reduced the diameter of electrospun nanofibers due to increased conductivity and polarizibility of solution in comparison to solution without surfactant. The addition of non ionic surfactant such as poly(propylene oxide-ethylene oxide) ether (PPO-PEO) (AEO10) has produced uniform fibers, whereas, addition of anionic surfactants such as sodium dodecyl sulfate (SDS) has shown manifold increase in diameter of electrospun nanofibers than electrospun nanofibers produced in presence of cationic and non-ionic surfactants. These investigations have clearly indicated that properties of electrospun nanofibers could be controlled using different additives and solvents.
Conclusions
The various studies reported on applications of nanofibrous scaffolds have clearly indicated that the technique of electrospinning is of great significance and useful in fabrication of nanofibrous scaffolds for biomedical applications using biodegradable synthetic and natural polymers. Though the technique of electrospinning is quite old but it is able to produce micro to nanometer sized fibers for tissue engineering, delivery of regenerative medicines and wound healing applications. The onsite delivery of catalysts and bioactive molecules could be achieved with the help of electrospun nanofibers without any loss in their activities and structures. The electrospinning is emerging as an interdisciplinary area of research and possess tremendous scope for its improvements by using suitable biomaterials and controlling fabrication parameters. The techniques of coaxial and emulsion electrospinning are the areas of current interest and could be used in fabrication of drug loaded nanofibers for biomedical applications. Tissue engineering is an interdisciplinary approach for tissue regeneration through integration of specific cells with electrospun nanofibers. Similarly wound healing using nanofibrous scaffolds is an ideal therapeutic option for the treatment of the burns and defected tissues. The electrospun nanofibrous scaffolds could be a suitable substitute for invasive bone transplantation by modifying their properties with biomolecules and bone morphogenic proteins like BMP-2.
Abbreviations
PLA:

Poly (lactic acid)
PVP:

Poly (vinyl pyrrolidone)
PEVA:

Poly (ethylene-co-vinyl acetate)
PGA:

Poly (glycolic acid)
PEG:

Poly (ethylene glycol)
PVA:

Poly (vinyl alcohol)
PLGA:

Poly (lactic acid-co-glycolic acid)
PLLA:

Poly (L-lactic acid)
PCL:

Poly (ε-caprolactam)
PEO:

Poly (ethylene oxide)
PGC-C18:

Poly (glycerol monostearate-co-ε-caprolactone)
CMC:

Carboxymethyl cellulose
PHB:

Poly (hydroxybutyrate)
PHVB:

Poly (hydroxybutyrate-co-hydroxyvalerate).
Declarations
Acknowledgements
One of the authors Prof. Kailash Chandra Gupta is thankful to KOFST Seoul for providing an opportunity to work with Prof. Inn-Kyu Kang, Kyungpook National University Deagu, Korea under Brain Pool Program (131S-2-3-05630) for overseas scientists. This research is partially supported by General Research Program (2013 RIA 2005148) by the Ministry of Education, Science and Technology of Korea.
Authors' Affiliations
(1)
Department of Polymer Science and Engineering, Kyungpook National University, Daegu, South Korea
(2)
Department of Chemistry, Indian Institute of Technology Roorkee, Roorkee, India
Copyright
© Gupta et al.; licensee BioMed Central Ltd. 2014
This article is published under license to BioMed Central Ltd. This is an Open Access article distributed under the terms of the Creative Commons Attribution License (http://creativecommons.org/licenses/by/4.0), which permits unrestricted use, distribution, and reproduction in any medium, provided the original work is properly credited. The Creative Commons Public Domain Dedication waiver (http://creativecommons.org/publicdomain/zero/1.0/) applies to the data made available in this article, unless otherwise stated.