Polymeric nanocarrier systems for photodynamic therapy
Biomaterials Research
2014
18:19
Received: 7 August 2014
Accepted: 2 October 2014
Published: 8 December 2014
Abstract
Photodynamic therapy (PDT) is an emerging treatment modality that involves the combined action of photosensitizers (PSs) and light for treatment of solid tumor and other diseases. Although this therapeutic method has been considered as an alternative to classical cancer treatments, clinical PDT requires further advances in selectivity and therapeutic efficacy to overcome numerous shortages related to conventional PDT. In this regard, great efforts have been devoted to the development of polymeric nanocarrier-encapsulated PSs for targeted PDT, aiming at improvement of water solubility and tumor-specificity of hydrophobic PSs. Here, we discuss the general concepts and considerations of polymeric nanocarriers for efficient delivery of PSs. In recent, the amphiphilic PS-polymer conjugate-based self-quenchable nanoparticles and PS-polymer-conjugate/quencher nanocomplexes have emerged as an attractive delivery platform for efficient and reliable PDT. They can incorporate and deliver the PS in a photodynamically inactive state but demonstrate cytotoxic effects by tumor environment-sensitive activation mechanisms, so that the photodynamic cancer treatment can achieve maximum target specificity. Here, we report the recent achievements on the development of activatable PS formulations based on PS-polymer conjugates.
Keywords
Photodynamic therapyPhotosensitizerDrug deliveryPolymerNanocarrierConjugates
Introduction
Photodynamic therapy (PDT), a light-activated chemotherapeutic treatment, has emerged as an innovative clinical modality for tumors and nononcological diseases [1, 2]. This modality is based on the selective retention of a previously administrated photosensitizing molecule in a target site and a measured light dose of appropriate wavelength is then used to irradiate the target tissue. Upon light irradiation, the photosensitizing molecule interacts with molecular oxygen to generate various reactive oxygen species to damage target cells via apoptosis and necrosis [2, 3]. PDT offers several advantages over conventional therapies for malignant diseases [4–6]. For example, PDT is a minimally invasive method that destroy target cells without surgical risks, serious damages, and systemic complications. Since PSs are typically harmless without light, tumor site treatment can be precisely targeted by selective illumination, thus, PDT is highly selective and targeted in action. PDT can be applied repeatedly without initiating resistance or exceeding total dose limitation (as associated with radiotherapy). Over the past decade, PDT is gradually becoming a more widely used clinical technique and has received regulatory approval for treatment of a number of solid tumors [7], such as lung [8], bladder [9], head and neck [10], ovarian [11], prostate [12], skin [13] and bone carcinomas [14].
The photosensitizing molecules, named as photosensitizers (PSs), function as catalysts when they absorb visible light and convert molecular oxygen to a range of highly reactive oxygen species (ROS) (singlet oxygen and free radicals, such as OH
-
, O
2
2-
and O
2
-
). The detailed mechanism of action of PDT using PS is illustrated as shown in Figure
1
[
7
,
15
]. Briefly, PS has a stable electronic configuration with a singlet state in their lowest or ground state energy level (PS
0
). Upon activation, the PS in its ground state absorbs a photon and is promoted into an excited singlet state (
1
PS
*
). The excited singlet state can relax back to ground state by emitting a fluorescent photon or can convert to the triplet state (
3
PS
*
) via intersystem crossing which involves a change in the spin of an electron. This triplet state is a photoactive state, which can interact with molecular oxygen and produce reactive oxygen species by undergoing two main reactions, Type I and Type II reactions. In Type I reaction, the PS transfers an electron to various receptor molecules, producing free radicals or superoxide ions resulting from hydrogen or electron transfer. Type II reaction leads to produce the electronically excited and highly reactive state of oxygen known as singlet oxygen. In PDT, Type II processes are most relevant, and the generation of singlet oxygen is responsible for the irreversible damage of tumor cells [
16
]. In addition to directly killing tumor cells through production of ROS under light irradiation [
17
], PDT also can damage the tumor-associated vasculature leading to tumor infarction [
18
], and can activate the immune response against tumor cells [
19
,
20
].

In a PDT process, PSs are critical to the successful eradiation of malignant cells. An ideal PS should meet several crucial requirements [21]: (i) identified purity and composition; (ii) minimal dark toxicity; (iii) photostability; (iv) strong absorbance in a near-IR spectrum range with high extinction molar coefficient; (v) water solubility; (vi) tumor site target specificity; (vii) adequate clearance rate from the body. The first generation PS refers to Hematoporphyrin (Hp) and Photofrin® (hematoporphyrin derivative, HpD) [22]; and, Photofrin is the first PDT agent approved for clinical use. It has been considered as a therapy against various cancers, such as lung, esophageal bladder, brain, breast, and early-stage cervical cancer. However, although Photofrin has demonstrated significant therapeutic effects, it still suffers from several drawbacks: first, Photofrin is a complex and undefined mixture of dimeric and oligomeric compounds having poor tissue penetration due to its relatively weak absorbance in the red region of the spectrum; second, it has a poor selectivity in terms of target tissue/healthy tissue ratios; third, it has a low molar extinction coefficient that requires use high doses of Photofrin and light for adequate tumor eradication; forth, it readily accumulate and stay in skin for a longtime, causing long-lasting cutaneous photosensitivity [23]. To address these problems, a wide variety of second generation PSs, such as porphyrin derivatives [24, 25], phthalocyanines [26–28], and chlorins [29, 30], have been developed. Comparing to the first generation, they have the advantage of being pure and well characterized; they can effectively generate singlet oxygen and have absorption maxima at wavelength longer than 630 nm, at which light penetration in tissue is enhanced; their relative high selectivity for malignant sites and fast elimination from the body leads to a reduced skin photosensitivity [22].
Although second generation PSs have addressed several problems with first generation PSs, they still face the challenges associated with the PS delivery [31]. Most existing second generation PSs are aromatic and hydrophobic in nature with poor or limited solubility in water and hence difficult to be intravenously administrated. Even in the case of water-soluble PSs, the poor accumulation selectivity at malignant sites makes them far from clinical applications. Formulating hydrophobic PSs using lipidic (e.g. Cremophor) or organic (e.g. propylene glycol) excipients is reasonable for topical or local administration, but can cause unpredictable biodistribution, toxicity, and hypersensitivity if administrated intravenously [15]. The unpredictable biodistribution can lead to a high plasma retention and unexpected accumulation of PSs in healthy tissues like skin, which often results in accidental damage on blood vessels or non-disease tissues when the optical equipment applied, and/or skin photosensitivity when the patients expose to the sunlight or strong indoor lights. In addition, as for excipients like Cremophor, the issues with allergy, hypersensitivity reactions, and nephrotoxicity have been often reported [32, 33]. Therefore, a challenge in PDT for treatment of malignant diseases is to design a safe and tumor-specific carrier platform for systemic delivery of PSs.
To date, a variety of macromolecular nanocarrier platforms such as liposomes [
34
–
36
], polymeric nanoparticles [
37
–
41
], and micelles [
42
–
45
] have been investigated for their potential application in PS delivery (Figure
2
), which can provide an effective solution to overcome the shortages of current PSs associated with intravenous administration and selective delivery of the PS to the tumor sites. Beneficial effects of these nanocarriers lie in their excellent colloid dispersity in water that enables solubilization of hydrophobic PS in physiological condition and the enhanced accumulation at tumor sites through enhanced permeability and retention (EPR) effect (Figure
3
) [
46
,
47
]. Generally, PS can be encapsulated using these carriers by both physical methods using hydrophobic or electrostatic interactions between PS and polymers and chemical methods using various conjugation reactions of PSs to polymers and nanoparticles. The general concepts and considerations of polymeric nanocarriers for delivery of PS will be resumed. In addition to the delivery strategies to modulate the pharmaceutical features and biodistribution of PS, a series of amphiphilic PS-polymer conjugate-based self-quenchable nanoparticles [
48
–
52
] and PS-polymer-conjugate/quencher nanocomplexes [
53
–
55
] have been recently developed. A common characteristic feature of these platforms is that they can incorporate and deliver the PS in a photodynamically inactive state and create active forms and produce cytotoxic effects only at the tumor site. Since the direct tumor cell destruction essentially depends on the in situ generation of cytotoxic singlet oxygen, a controllable singlet oxygen production with high selectivity and localization would lead to more efficient and reliable PDT, thereby, significantly reducing the associated side effects in PDT, such as skin photosensitivity. In a second part, we will describe the strategies that involved in construction of activatable PS formulations based on polymer-PS conjugates and their applications in tumor site-specific PDT.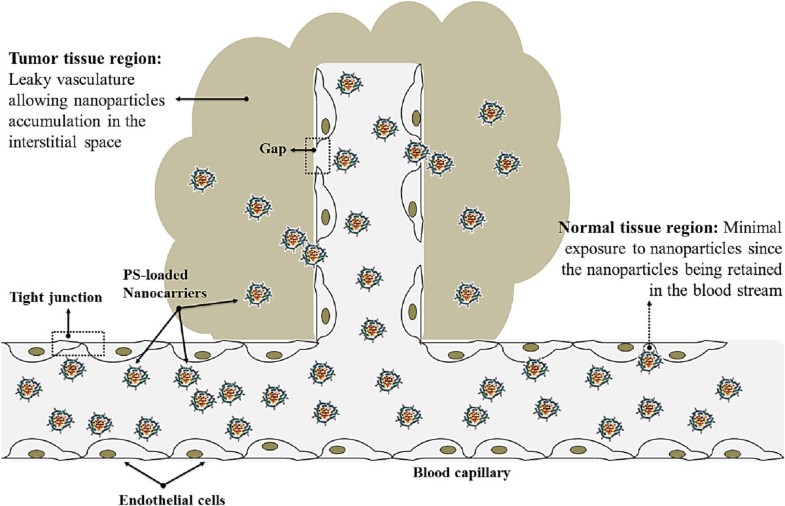 Conclusion
PDT has emerged as one of the important therapeutic options in management of cancer. However, there are several shortcomings in the application of conventional PS-based PDT to the treatment of solid tumors. Most clinical applied PSs have limitations such as poor water solubility and low selectivity between tumor and normal tissues for clinical use. Physical encapsulation of PSs into polymer nanocarriers could overcome or reduce inherent limitations that the conventional PS formulations have. PS-encapsulated polymeric nanocarriers may act as a stable formulation for hydrophobic PS under physiological conditions and have an appropriate size for prolonged blood circulation time to deliver PSs to target sites. Moreover, self-quenchable nanoparticles formed by self-aggregation of PS-polymer amphiphilies and PS-polymer conjugate/quencher nanocomplexes have been proposed as a more sophisticated strategy to modulate the photoactivity PS. These PS-polymer conjugates-based formulations can not only engage in solubilization and selective accumulation but also can precisely control the photodynamical reactions only occurring at tumor site, thereby, maximizing the therapeutic efficacy and reducing the side effects related to classic PDT. Although the most of polymeric PS formulations are still undergoing testing in experimental animal models or pre-clinical trials, the above mentioned methodologies for PS delivery hold great potential to bring PDT to the forefront of oncological diseases treatment.
Declarations
Acknowledgments
This work was supported by the Basic Science Research Program through the National Research Foundation of Korea (NRF) funded by the Ministry of Education, Science and Technology (2012R1A1A2005029 and 2013R1A2A2A04015914).
Authors' Affiliations
(1)
Department of Polymer Science and Engineering, Chungnam National University, Yuseong-gu, Daejeon, Republic of Korea
Copyright
© Li and Huh; licensee BioMed Central Ltd. 2014
This article is published under license to BioMed Central Ltd. This is an Open Access article distributed under the terms of the Creative Commons Attribution License (http://creativecommons.org/licenses/by/4.0), which permits unrestricted use, distribution, and reproduction in any medium, provided the original work is properly credited. The Creative Commons Public Domain Dedication waiver (http://creativecommons.org/publicdomain/zero/1.0/) applies to the data made available in this article, unless otherwise stated.